Details & Dimensions
These baby moon wheelcover hubcaps are highly polished solid stainless steel and fit early Chrysler, Dodge, and Plymouth wheels pre 1967. They also fit Rambler and AMC as well as a lot of trailers. These are very high quality and Made in the USA! Inside diameter is 9 5/8".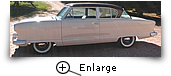 Product Reviews
Write a Review
GREAT PRODUCT, MADE WITH QUALITY SS, ONE CAP HAD A FACTORY DEFECT AND MIKE WAS RIGHT ON IT. HE SHIPPED ANOTHER ONE OUT IMMEDIATELY , HAD IT IN A FEW DAYS . IT'S HARD TO FIND GOOD PEOPLE AND DOWN TO EARTH PEOPLE TO DEAL WITH NOW DAYS. i WOULD RECOMMEND HUBCAP MIKE TO ANYONE, GREAT COMPANY GREAT GUY TO DEAL WITH

Look good when installed. Went on tight but that means to me they won't come off after hitting a bump. Solid construction with great shiney finish. Mounted on a Willys DJ-3A 15" 3 nub wheels.

The measurements were perfect and they fit beautifully on my 1969 Cord!!!

9-3/4 Inch Size Baby Moon Center Cap

I was glad i decided to order the cap from you all. The center cap is really made of solid steel and very sturdy and fits well on my rim. thank you for quality parts.