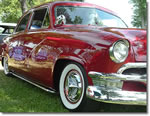 Hubcap Mike's Fiesta hubcaps are beautiful polished finish tri-bar wheel covers with a rally wheel feel and a spinner center cap look that will add the finishing touch to your classic car restoration or kustom car project.
These are the finest quality brand new wheel covers, and we make it so easy to buy online!
Check out more Photo Gallery of Fiesta Hubcaps on Cars!
Fiesta Wheel covers