Wheel Skins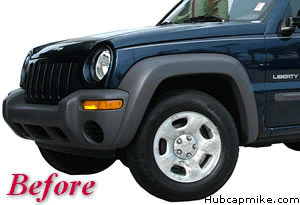 Wheel Skins: Expensive Chrome Wheel Look for Hubcaps Price!
Just click on a wheel skin link below to find the set of wheel skins specific for your auto.
We make it so easy to buy online!
Our wheel skins are a lot like the name sounds; like new skin that covers your old wheel. For a little more than the price of a set of hubcaps, each wheelskin fits perfectly over your steel wheel, transforming those scratched, dull or even rusted wheels into what looks like high quality chrome wheels. But don't worry, we won't tell anyone that you paid so little and just snapped them on right over your wheels like you would a hubcap or set of wheel covers. Each wheelskin has a unique rugged clipping system, so you don't have to worry about them coming off.
Wheelskins are NOT universal fit. Each wheelskin is designed to fit a factory styled steel wheel or silver alloy wheel for a
specific

make, model and year car or truck. Make sure that the wheel skins that you order, have the same wheel style as on your vehicle.
Wheel Skins