If you are replacing an existing set of baby moons, the easiest way to determine the size is to just take one baby moon hubcap off of the wheel, flip it over and measure the inside diameter of the cap. If you don't have existing moons, then use the instructions below.
* Important Note:
Instructions below are for wheels with 4 Nub center cap Hubs.
"But my Hub has 3 Nubs" Click Here
Step # 1: 3 Nubs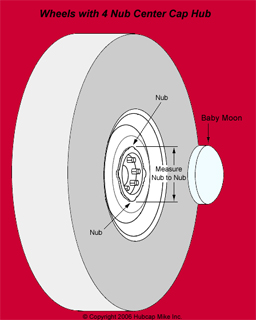 1
Measure Nub tip to Nub tip on the rim as shown in the diagram above.
2
Use the chart below to help you determine which size baby moon your wheel requires. These baby moons only come in one of the 6 sizes shown in the chart below.
Measurement
8 23/32" Click Here
9 5/16" Click Here
9 3/4" Click Here
10 1/8"

Baby Moon Style

Click Here

50 Merc Style

Click Here
10 7/8" Fits a standard 49' 50' 51' and 52' Mercury Wheel Only. Click for Merc Baby Moon Stainless Steel Moon Cap
11 5/8" - 11 3/4" Click Here

Solid Stainless Steel Moon Fits all 8 lug steel wheels Ford, Chevrolet and Dodge Fits many of the Ford E-series van wheels.