E-Mail Customer Service
Check Out Our Ratings!

Please Note: All prices on our site are shown in U.S. dollars.
For currency conversion Click Here.
Shipping
We offer 14.98 Flat Rate Shipping to the U.S. 48 contiguous states!
You can Preview Shipping Cost on the 1st page in check-out (Shopping Cart Page) by clicking on the "Estimate Shipping" button and then just enter your zip/postal code, country state and then click on the "Estimate Shipping" button. (Canada you must enter your province) The shipping cost by method will appear just below the "Estimate Shipping" button. You must have an item/s in your shopping cart to be able to access the shipping cost calculator.
Shipping fees are automatically calculated for you after the "Ship To" information is entered during the checkout process.
It is very important that you provide us with accurate contact information, especially your e-mail address (We NEVER share or sell your e-mail address to anyone!).
Immediately upon ordering, a confirmation e-mail is sent to you (to the e-mail address that you provide us) to confirm that we received your order. Once the order is shipped, an e-mail is sent to you with your tracking number, so that you can track the delivery of your order to your door step!
3 day, 2nd day and next day refer to Business Days.
For destinations outside the U.S and the contiguous US 48 states, Ground and 3 Day Select are NOT available.
Orders outside the U.S. may be subject to additional tariffs or duties charged by the destination country and are not shown on the order and are not within our control.
Sales Tax will be added for California residents.
UPS does not deliver to Post Office Boxes.
Available Shipping and Transit Time:
US Destinations
UPS Ground - Transit Time: 1-5 business days (See Map Below)
UPS 3 Day Select - Transit Time: 3 business days
UPS 2nd Day Air - Transit Time: 2 business days
UPS Next Day Air - Transit Time: 1 business days
U.S. Insular Territories
(PR,AS,CZ,GU,MP,VI)
US Postal Service International Express Mail - Transit Time: 3-5 business days
Canada
UPS Standard to Canada - Transit Time: 2-7 business days
International Destinations
(Outside the US)
UPS Worldwide Express - Transit Time: 1-3 business days
UPS Worldwide Expedited - Transit Time: 2-5 business days
US Military
US Postal Service Priority Mail - Transit Time: varies
UPS Ground Transit Times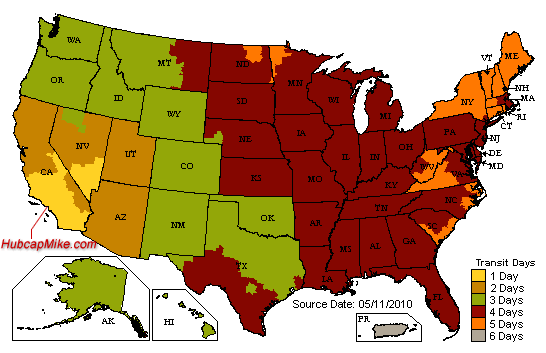 Payment Methods
Major credit cards are accepted - Visa, MasterCard and Discover card. All credit cards orders require a valid billing address.
Return Policy
At HubcapMike.com your Satisfaction is Guaranteed! HubcapMike.com is proud to provide the highest quality products. "This really is a fun business and we enjoy what we do." If you have any questions whatsoever, please feel free to give us a call. We're here to assist you. If for any reason, our customers are not pleased with the product purchased, the new and unused condition product may be exchanged for a replacement part or complete refund within 30 days of the date of purchase (refund is minus cost of shipping).
Returns: If for any reason you are dissatisfied with your purchase, you can return the product to us for a refund (minus shipping charges) within 30 days from the date of purchase. We never charge re-stocking fees on the product if it is returned within 30 days or the customer has damaged the product. We gladly do exchanges on products returned after the 30 day period. All returned products must be in the original and sellable condition when returned. Shipping charges will be at the expense of the sender. Returns must be sent freight prepaid. Keep all original receipts and invoices so you have proof of purchase. Keep tracking numbers or receipts in case your return item becomes lost. Insure the return with the shipper in case the item becomes lost. Remember: The items you are returning are your responsibility until they are received by HubcapMike.com. Return product with a copy of your invoice to ensure credit is applied to the address at the top of the page. For Questions call: (714) 685-8801
All exchange requests will be accepted based on prior correspondence with a HubcapMike.com representative. Contact Us. All communications must include name, address, daytime phone and email address. HubcapMike.com will not accept collect charges on any return/exchange items.
If the product is damaged in shipping, do not return the product. Call or e-mail us immediately so that we can notify the shipper. The shipper might want to inspect the damaged product and packaging. Do not throw away the packing material or box. HubcapMike.com will replace your product immediately at no charge to you.
Hubcap Mike.com
2465 North Batavia Street
Orange, CA 92865